Friday, September 6th - Friday September 13th
Confederation Without Borders
Assembling the basic building blocks of for a federated bottom up governance around a basic set of principles of translocal cooperation between grassroots movements. Along the democraticconfederalism.earth gathering in Reykjavik, the joint remote participation at the Décentrale intents to follow this schedule:
Friday 6th, 17h-21h:
Municipalism, democratic confederalism, concepts, definitions
The origins and the meaning, from Bookchin to Ocalan, from the Zapatistas to Rojava, contrasting vs the state.
Saturday 7th, 16h-19h:
Ecology and democratic confederalism
Feedback and current perspectives from Climate struggles, climate camps Venice, Fridays for Future, Extinction Rebellion, community forestry movement of Nepal.
Sunday 8th, 17h-20h:
How to build processes of democratic confederalism
Building community where community no longer exists, the role of the revolutionary organisation, how to achieve popular political education.
Monday 9th, 14h-19h:
Equality and democratic confederalism
Issues of inequality, gender equality, rights of minorities, micro power dynamics, removing discrimination and oppression from our movements, understanding fascism and radical democracy as defence against it.
Tuesday 10th, 16h-19h:
Economy and democratic confederalism
A moral economy from a libertarian municipalism perspective, the importance of building alternative economy, the false answer of 'green capitalism'.
Wednesday 11th, 16h-19h:
Knowledge, Technologies and democratic confederalism
Putting knowledge in the hands of the commons, decentralized technologies, resilience to the state, software needs of a confederation without borders.
Friday 13th, 12h-15h:
Global issues and democratic confederalism
Influencing global institutions from bottom up democratic systems, diplomacy without borders, eastern and western wisdom, indigenous wisdom and traditions brought to bear.
If you are interested to participate, fill out the following form and we will send you additional information:
synergiehub.ch
Thursday, September 12, @Décentrale
Paper Ledger based Social Credit
On the 12th of September we will meet at the Decentrale to discuss strategies for the implementation of the Kong and use of faircoin in our respective places. During that meeting we also want to organise an information day to encourage the use of these alternative payment and exchange systems. The Kong is a mutual credit system accounted for on paper, with a form of basic income and denoted in Fairo. It would be great if many of you can join us to develop further local and permacircular economy.
Le 12 septembre, nous nous réunirons à la Décentrale pour discuter des stratégies possibles pour instaurer le Kong et l'utilisation du faircoin dans nos lieux respectifs. Au cours de cette réunion, nous voulons également organiser une journée d'information pour encourager l'utilisation de ces systèmes alternatifs de paiement et d'échange. Le Kong est un système de crédit mutuel comptabilisé sur papier, avec une forme de revenu de base et indiqué en Fairo. Ce serait formidable si beaucoup d'entre vous pouvaient se joindre à nous pour développer davantage l'économie locale et permacirculaire.
If you are interested to participate, fill out the following form and we will send you additional information:
synergiehub.ch
Friday, September 13, 19:30 @EspaceNoir
Ni Dieu Ni Maître, une histoire de l'anarchisme
En présence du Tancrède Ramonet, le réalisateur de la série documentaire "Ni dieu ni maître: une histoire de l'anarchisme". Une projection d'extraits de la 3ème partie, qui parlera de l'histoire plus récente de l'anarchisme. Sa série de documentaire est pour l'instant séparé en 2 parties. La première partie revient sur l'histoire de l'anarchisme jusqu'au début de la première guerre mondiale, et la deuxième partie du début de la 1ère guerre jusqu'à la fin de la 2ème guerre mondiale. Cela fait maintenant quelques années que Tancrède réalise la 3ème partie.
Saturday, September 14
A Forest for the Internationalist Martyrs of the Rojava Revolution
ANF News: Hain für die Gefallenen der Revolution in Rojava
anfdeutsch.com
If you are associated with an organization that would like to come plant a tree for the fallen internationalist martyrs of Rojava on the 14th of September, please let us know:
synergiehub.ch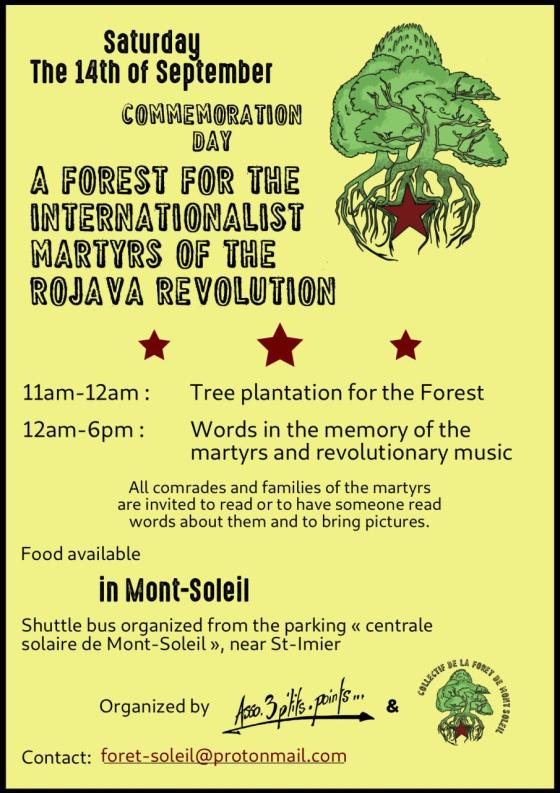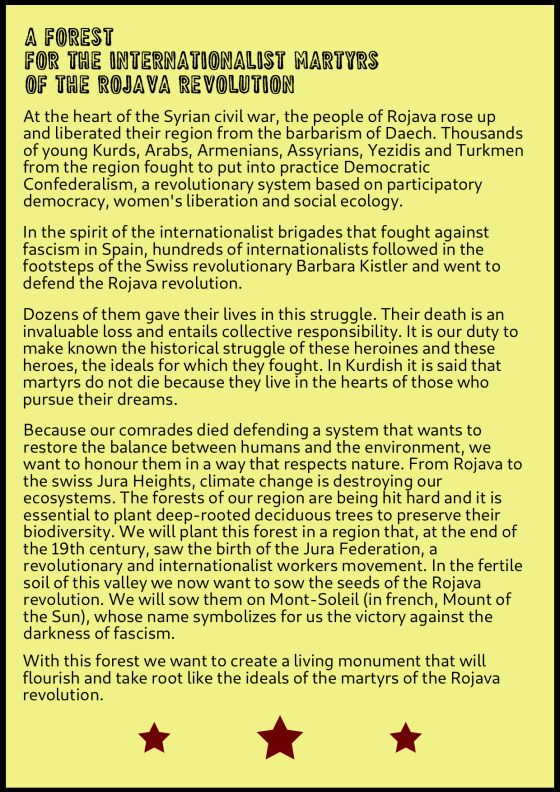 Concert L'n'B
Chansons mit Blut, Wut und Mut. Lila and Bruno are musical guests for the Rojava Internationalists commemoration day.
Saturday, September 21, 16h @ Espace Noir
Journée Anti Pub
Car la publicité s'impose à nous par un matraquage de chaque instant. Elle pollue nos esprits en nous aveuglant. Elle dissimule les conditions réelles dans lesquelles les marchandises qu'elle vante sont produites et occulte les conséquences sociales et écologiques de notre hyper-consommation. Son objectif est de nous pousser à l'acte d'achat par tous les moyens et en tous lieux, quitte à mettre en danger notre intégrité physique. Par ses techniques de manipulation, elle court-circuite notre entendement, stimule nos instincts les moins nobles, assèche notre imaginaire et voudrait nous faire croire que le bonheur dépend nécessairement de notre pouvoir d'achat. Exposition, projection du film, débats, repas et du musique. Le tout à prix libre.
September 22 - 23, @Décentrale
Medicinal and edible wild plant workshop
Learn to identify, harvest, and use many varieties of wild plants for preparing meals as well as for medicinal use in this weekend workshop. As has become a Décentrale tradition, this training will be guided by Jean-François Henry.
If you are interested to participate, fill out the following form and we will send you additional information:
synergiehub.ch
Friday October 11, 17h - Sunday, October 13, 17h
Cercle de Paix
Les Cercles de Paix s'adressent particulièrement aux femmes mais aussi aux hommes de tout milieu culturel.
Ces Cercles de paix sont offerts dans le monde entier par les Femmes artisanes de paix, un réseau global de femmes dont la mission est d'encourager d'autres femmes et hommes à croire en leur rôle de faiseurs de paix à tous les niveaux de la société.
Un Cercle de paix est un programme interactif qui dure en générale trois jours, organisé en petit groupe. Comme pour chaque Cercle de paix, le programme contient des présentations faites par les facilitatrices, des exercices interactifs et des temps de réflexion personnelle, ainsi que des récits de vie des participantes. Les participants se pencheront sur des questions comme: Qu'est-ce que la paix? Quelles sont les qualités d'un artisan de paix? Quels sont nos modèles d'artisans de paix? Qu'est-ce qu'est la paix intérieure, l'écoute de l'autre, l'écoute de soi-même et le pouvoir du pardon?
Si vous souhaitez participer, remplissez svp le formulaire en ligne suivant, afin de réserver votre place et recevoir des informations supplémentaires:
synergiehub.ch