Tools for a Self-Empowered Culture, May 26 - June 12, 2019
This years gatherings will be around the topic of searching for conceptualising and developing the tools we need to make self-empowered culture work better.
The 2019 gatherings will start on May 26th and will go on until at least June 12th.
Agenda: (français/english)
26th May - 5th June:
Interactive Art exposition, Espace Noir
DJTAL: Artiste Gilet Jaune
RAMA: Hackactiviste et principal créateur de la webapp DelDj
Venez participer à la création de l'art d'aujourd'hui, ainsi qu'à la politique de demain!
Et si l'expérience de l'artiste dessinateur ou du peintre en apparence si solitaire pouvait devenir non seulement collaborative, participative mais aussi accessible à toutes et à tous de façon immédiate et simple. La puissance du "beau", du mystique, du tribal... bref l'expérience de la machine ludique interactive: le Totémizateur. Ce dernier, une création de peinture vidéo trippante conçu par Djtal Humain, vous donnera un autre regard sur les métiers de l'Art Destinatoire, en sachant capter vos compétences, vos dispositions ou prédispositions à l'expression audiovisuelle. Par de simples tracés dans le sable et la reconnexion avec l'un des plus ancestrales gestes d'écriture humain sublimé par la puissance de calcul d'un ordinateur et une playlist électro de bonne facture, un nouveau paradigme de la créativité peut s'ouvrir à vous: un voyage au cœur d'une esthétique en constante mutation.
Aussi dans un autre volet de l'exposition vous pourrez découvrir le travail destinatoire-papier du Digital Humain frère djumeau du Djtal, dont le geste consiste à fusionner divers langues en mode "lego". Dans une forme graphique absolument subréaliste les mots, les lettres, les symboles occupent et colorent l'espace de la feuille. Tout cela afin de concevoir une langue géopoétik capable de rivaliser avec la Novlangue Technocratik du moment (le Désespéranto!?). Un nouvel armement sémiologik, syntaxik, conceptuel est possible et nécessaire ou vital. Vous pourrez peut être participer directement ou indirectement au projet néopolitik du Décapitalisme Articulturel lancé en 2018-2019 au cœur du mouvement des Gilets Jaunes et découvrir sa dimension astroéconomik avec les premières pages du manuscrit oridjnal du Livre Jaune de Tetsuo Nakamoto - petit frère caché de Satoshi Nakamoto - engagé dans la lutte finale aux côtés du Grand Jaujaune et découvrir le système monétaire officiel complet papier des GJ : les Billets Jaunes évidemment convertibles en Djtos.
Découvrez également la webapp DelDj, afin d'unir la création visuelle avec la création musicale et parfaire cette expérience synergique.
26th May:
Vernissage: Interactive Art exposition, 15:00, Espace Noir
Table ronde et discussion au sujet du mouvement des Gilets Jaunes, 16:00, Espace Noir
Documentaire, 17:30, Espace Noir
27th May:
Tools for a self-empowered culture, 10:00-19:00, Décentrale
28th to 30th May:
Building Fair Circular Economy, Décentrale
How do we best extend and curate the web of trust that is the market participants of the fair economy. What are preconditions to be considered "fair", which are the merchants that we know to be fair accordingly and which economic links can we manifest between them.
fair.coop
Glocal Governance Model - Case in point: FairCoop, Décentrale
In this workshop we will be looking of ways to apply glocal governance models to the needs and circumstances of the FairCoop community. FairCoop's focus isn't governance but the development of a global grassroots fair economy. As it aims to achieve its goal, it however needs to build the corresponding governance structures. We want to see how the models we develop can help in this context and how this practical example can help develop our models.
fair.coop
FairCoin ecosystem and Fairo exchange rate review gathering, Décentrale
We aim to review the concept of exchange rates between the "Fairo" purchasing power peg, FairCoin and other currencies. The Fairo is intended to be a reference point for purchasing power value in the emerging fair economy. We are defining an ecosystem of consensus based exchange rates in a web-of-trust, creating dynamics for a Nash Equilibrium for a cooperative, fair economy. We'll discuss and further develop the proposal of using this reference point and aim to agree on a first consensus rate.
fairo.exchange
31st May – 9th June:
Hackathon at the Décentrale
We meet to discuss the current status of different tools in the FairCoop ecosystem, how to improve these tools and to work together on progress with these developments. The program will be adapted to the participants and their skills. We will organize together the daily schedules, which will not only include the working program but also food shopping, preparing meals, cleaning and social activities. Participants will be discussing and working on task ranging from system administration to the various software stacks of the FairCoop ecosystem, covering different levels of experience and programming languages, graphics work and conceptual discussions of use cases.
08:30-10:00 Breakfast
10:00 Planning the topics and working groups
10:30-13:30 Working
13:30 Lunch
15:30-19:30 Working
20:30 Dinner
NB: This timeline serves as guideline. Participants are welcome to leave earlier to join activities happening at Espace Noir.
4th June:
Video conference with @jytoumit from Duniter on theoretical aspects of the currency, 10:00, Décentrale
"Duniter is a cryptocurrency software, which means it is a software providing the ability to create currencies. Duniter is different from other cryptocurrency softwares you may know (Bitcoin, Litecoin, Peercoin, ...) for 2 main reasons : its currency code includes the concepts of a Universal Dividend and Web of Trust; but also its Blockchain code, which is far more energy efficient, getting rid of the massive waste of energy introduced by Bitcoin."
duniter.org
5th June
Video conference with @jytoumit from Duniter on the Duniter protocol, 10:00, Décentrale
Présentation livre Kate Austin par Aurélien Rouillan, 19:30, Espace Noir
6th June
Jeu de la monnaie avec @martouf, 17:30, Espace Noir
Jazzy concert, 20:00, Espace Noir
8th June
L'n'B concert, 20:00, Espace Noir
10th to 12th June
Building Fair Circular Economy, Décentrale Glocal Governance Model - Case in point: FairCoop, Décentrale FairCoin ecosystem and Fairo exchange rate review gathering, Décentrale
... Link (0 comments) ... Comment
The Mycelium Model of Glocal Governance - Abstract
Abstract:
The Mycelium Model of Glocal Governance is a governance structure that is parallel to the existing governance structures in the world. It does not aim to replace them. It is complementary to them. It has, however, the inherent power to transform them or to bring about new structures that make them obsolete.
It is glocal, translocal in nature. It is decentralised, powered through the interdependent participation of local and translocal random groups of people.
The Mycelium governance structure does not make decisions. Its function is to facilitate awareness of current consensus in society. Once collective realization arises, there should be no need for making "decisions". However, where decisions are made in the parallel old and emerging governance structures, this collective realization is taken into account as part of agreeing on the chosen path forward.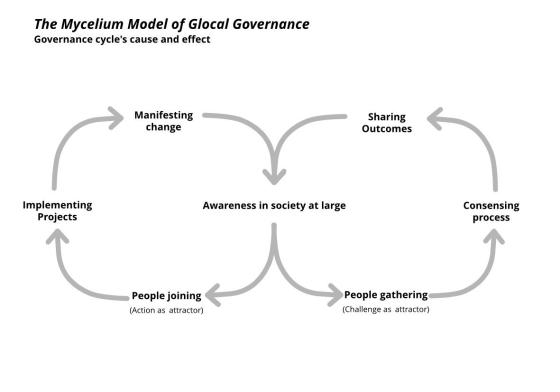 1) People gathering
From society, people gather in groups, meet at a venue or online, synchronously or asynchronously, with the aim to reach consensus.
2) Consensing process
They make use of best practice methods and tools to help reach and formulate consent or consensus outcomes.
3) Sharing outcomes
The outcomes are shared with the public and amplified to society at large. Evolving best practices will continuously improve the way in which these outcomes are kept retrievable in the most relevant ways.
The implementation of this model works by nursing and cultivating best practices for 1) People gathering, 2) Consensing process and 3) Sharing outcomes. As the quality and best practices in these three fields improve, the attention to these processes and the awareness of its outcomes in society at large will increase.
As this governance culture evolves, it will be increasingly possible to respond to challenges by retrieving information on the existing collective consensus regarding how to handle the challenge.
The Mycelium Model of Glocal Governance represents a fundamental shift away from decision making power structures to a culture of moving forward on agreed paths as a direct result of collective awareness.
The model works with existing institutions, regulations, decision-making paths and control mechanisms and does not directly control how key individuals and other decision-making bodies are to be appointed. It influences these institutions, decision-making and control mechanisms as well as their appointment only in a way in which existing checks and balances are initially unchanged. Newly emerging governance structures evolve their mandate and their checks and balances independently as well, in accordance with current regulations and control mechanisms.
The premise of the Mycelium model is a bottum up, organic and self-organisational approach that releases the full potential of individuals, communities and affinity groups to manifest change with greater sovereignty in a self-empowered, decentralized way. It at the same time ensures an increased likeyhood that the changes that are manifested are supported by a large consensus in society.
The mycelium is both a local solution and an international solution that can work in tandem, or symbiotically, with existing systems as they are transforming. This is an enlightened, innovative way to approach the challenges we all face today, but it is also a model that is striking through its simplicity. It is spoken in the very language of the nature we are trying to preserve, not only as it relates to the metaphor of the mycelium shape, but also in the way it creates an entire ecosystem for current and future governance best practices and how it works with the nature of the human being instead of against it.
António Guterres, Secretary General of the United Nations on the 19th September 2017 stated:
"The UN needs to decentralise it's decisions and to create a game changing strategy that places more on people than on process."
... Link (1 comment) ... Comment
The Mycelium Model of Glocal Governance - Description
Description:
The need for a new shape for current and future challenges
As we recognise the need to see global challenges as a requirement for more global coordination and cooperation, and hence, the need for governance to become one global organisation, we at the same time see organisations of all sizes shifting from simple decision making structures towards a more complex governance culture. Governance at any level and organisations of any size are becoming increasingly synonymous concepts.
Different shapes of organising, providing a historic context
In recent human history, different paradigm shifts in how we organise and govern have come about at an increasing pace. From a triangle shaped governance, that is authority based and where the bottom line is what the person in charge is saying, to boxed shaped forms of organisation where the bottom line is what the "contract" says, to circle shaped governance, which is dialogue based and where the bottom line is what we decide together.
These waves of new forms of organising have spilled into the cultures of our society in ways where the older organisation structures continued to exist in parallel. The new organisations tend to form along side old ones, but grow to increasing importance, while the older organisation structures slowly fade in their relevance.
On the historic time scale, authority based organising has shaped our governance for thousands of years while contract based governance has become of primary importance during the past centuries. In comparison, dialogue based, collective decision making has really been gaining only during the past decades, with a vast amount of our governance structures still dominated by the earlier forms of organisation. However, we see an exponentially fast transformation happening towards the more advanced forms of organising, to the point of new paradigm shifts happening already before the impact of earlier shifts is fully felt in society.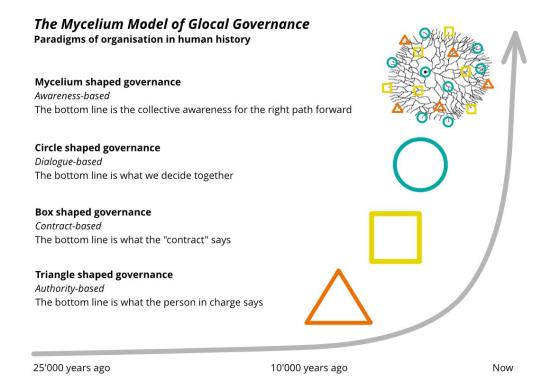 The shape of the mycelium
We propose that the new shape of a governance culture to meet current and future challenges is that of the mycelium.
"I have increasingly come to regard the mycelium as a heterogenous army of hyphal troops, variously equipped for different roles and in varying degrees of communication with one another. Without a commander, other than the dictates of their environmental circumstances, these troops organise themselves into a beautifully open-ended or indeterminate dynamic structure that can continually respond to changing demands."
Dr Alan Rayner ( Biologist and Educator)
The word "mycelium" literally means "more than one". The plural form is Mycelia. The word has modern Latin and Greek origins and was first coined in text in the early 1800's, and refers to the thread-like body of a fungus.
The spores of most fungi grow a network of branching filamentous hyphae, which spread into the existing organic structures. In most fungi, hyphae are collectively called a mycelium. The hyphae excrete enzymes that break down the old and turn it into compost, which serves as nutrient for the emerging new.
Where hyphae gather to form a whitish mycelium-soil aggregated zone, called the shiro, a mushroom will come out as the fruit bodies of the mycelium, with its spores spreading to grow new hyphea elsewhere.
The shape of the Mycelium applied to governance
Like a spore from a mushroom, people that carry the awareness about a collective consensus in society, will be motivated to move to action along that path. Like hyphea, they will grow to find others that they can join in order to implement projects for manifesting the change that is called for. Or they will be motivated to further explore related aspects regarding that challenge and gather in groups with others that share that interest. Like in shiro, these gatherings, with the use of best practice processes, will create consensus outcomes statements that, like mushrooms, send the spores of that newly gained awareness out in society.
... Link (1 comment) ... Comment
The Mycelium Model of Glocal Governance - Cause and Effect
The Mycelium's governance cycle's cause and effect
Based on the existing awareness they have in society, people are motivated to individually or as part of a group, implement projects with the aim of manifesting the change they see needed. By providing platforms and tools where they can connect with others that interested to work on these shared aims, they can use stronger synergies of cooperation and are more likely to succeed to manifest that change.
To the extent that such change manifests in society, people in society become more aware of related challenges. Also, based on the level of awareness in society people will feel motivated to gather to explore other existing challenges. Organisational structures and tools can continue to be improved, that allow the people interested in these challenges to gather and through the nurturing of best practices for the consensus development, come up with breakthrough consensus outcome statements, for which the awareness in society at large did not exists before.
Based on this higher awareness of collective consensus in society at large, again people motivated to start or join a project with that aim will look for others to cooperate with. Since their plan of action is based on a wider consensus in society, they are now more likely to find others with a synergetic motivation to join in manifesting the projects.
As this circle repeats, this leads to change with a wider consensus in society to be exponentially more likely to manifest.
Implementation of the model and its challenges
The challenge of the model is to motivate people to gather and invest the time in the consensus processes. This becomes easier as they see the effect that the shared outcomes have in society. The shared outcomes in turn are payed more attention to, if they have a high probability of being representative of wide spread consensus in society. This in turn is dependent on the quality of best practices and methods used in the consensus development processes.
So, the main need for the successful evolution of a mycelium governance culture is to nurture and cultivate the quality of the ways in which 1) people gather, 2) the consensing processes used and 3) the ways the outcomes are shared.
Progress can be made separately in all these three areas. Many existing groups and projects are working on increasingly better solutions for these three aspects. This ranges from online platforms where people with shared motivation can more easily organize to gather, either in offline venues or using online tools, it includes the evolution of better facilitation methods for working with gathered groups of people, new social media technologies and media platforms or distributed databases for the sharing of outcomes.
It is the groups of people that chose and evolve these tools and best practices, they are not given by the model itself. Hence, their diverse evolution is encouraged and will self regulate towards higher quality and transparency.
The people participating in this governance culture do not need a mandate to participate. Nor do they have any decision authority as a result of their participation. They simply share their resulting consensus, which through good sharing practices raises awareness in society. It is society, its individual members, its organisations and institutions, that will act as a result of that higher awareness, through the usual mandates and accountability.
Manifesting change through existing governance structures
As new challenges and risks are emerging, the self-empowered culture of the evolving and curated consensus will be ready for organisations and institutions to tap into. It will be a self-regulating reality that consensus outcomes are produced and collected ahead of existing and emerging decision making structures starting to be paying attention to these challenges. This essentially means that in a mycelium governance culture it is likely that when a need to act emerges, the awareness for what that action should be is already there.
The Mycelium model suggests the transformation of the old order with a progressive and dynamic way that increases and improves our democracies in a comprehensive manner. It is a metamorphosis without an overthrow of existing order; but a pragmatic approach of consensus building with everyone concerned.
Once collective realization arises, there should be no need for making "decisions" anymore because everyone will know what has to be done when the time comes to do it. This awareness strongly forces those governmental decision making structures to abide by what the people have in their collective wisdom through open discussion and debate worked out.
To the extent that there is resistence to implementing such change, the Mycelium governance culture would also lead to a much faster emergence of new bottom up governance structures that replace old top down structures that resist this change. Therefore, where decisions would be made in other existing or newly emerging governance structures, this collective realization is increasinly likely to be taken into account when agreeing on a path forward.
In some ways these changes have already been taking place across the world in various communities and nation states and are ongoing. The aim simply needs to be to nurture and curate the key facilitating aspects of this emerging governance ecosystem.
Conclusion
The mycelium model addresses the current and future challenges in society through its decentralized structure and its open, transparent democracy encourraging culture. By creating and accelerating awareness or consciousness and redistributing responsibility, it focusses strongly on the solution and how it can be implemented. It encourages a culture that moves away from decision making, which just gives an opportunity to point fingers at others, who made decisions, to avoid responsibility. It leaves the actual doing, along with the ultimate responsibility that comes with that doing, to society at large, where both is in much better hands.
... Link (1 comment) ... Comment
The Mycelium Model of Glocal Governance - Argumentation
Argumentation:
1. Core Values
We trust the open processes that the model affords and distrust the closed processes of existing structures which are bound by bureaucracy and secrecy. The value system of humanity we believe to be intrinsically good and aimed at what is the better and the right course of action for all, for all life on the planet.
2. Decision-Making Capacity
In our case our process happens before the decision happens and happens ahead of time. It speeds up the process, because those participating in the decision making can take the outcomes into account, therefore it makes the decision making process faster and is likely to increase the quality of the outcomes. Ideally, decision makers will feel that there is no decision to make because of it being clear what needs to be done.
3. Effectiveness
With a Mycelium governance culture, it is more likely that implementation of decisions within societies and within decision making structures are met with less resistance because the process of agreement has already been dealt with through through the awareness for what consensus exists in society. If a community is more committed to the course of action, then it is easier to implement such action.
4. Resources and Financing
At its fundamental level, the Mycelium model is a self-empowered, decentralized, bottom up governance structure for which the resources can be obtained without top down aid. The most important support that it can receive would be to not expend top down resources to try to suppress its emergence. Ideally, a broad consensus in the United Nations general assembly would encourage nation states to have a supportive attitude towards the emergence of a Mycelium governance culture.
As the action of moving forward with manifesting changes happens outside the Mycelium governance structures themselves, the existing and emerging governance structure will have or will obtain the required resources for implementing change through their existing means. If anything, these changes, due to them being supported with larger awareness in society, will have an easier time to obtain required resources and financing in a matter that is equitable and fair.
5. Trust and Insight
This model gives back the power into the hands of the people, by empowering them through the collective awareness. People will regognize themselves to be a sovereign part of the manifestation of change. They will feel responsible to maintain and increase the quality of the governance processes and hence its transparency. The outcomes of these processes are shared with everyone in the society and fears are overcome with truth. This in turn will strengthen the emerging Mycelium culture of governance to itself become a strong web of trust.
As part of that, transparency about the groups that gather, the processes they use and the way the outcomes are shared are important meta data of the outcomes themselves, essential for that web of trust. Because this governance model is decentralized and bottom up, it will self regulate in this regard.
6. Flexibility
A Mycelium governance culture, like a mycelium in nature, is highly adaptive to the evolving environment around it. In many ways, it is a meta governance structure to old governance structures that exist and new ones that emerge. Hence, it itself has less of a need to change. The ever evolving parts are the tools and best practices that are used to continuously improve the quality of the different processes in the Mycelium governance cycle. Continues and divers improvement and evolution of these parts is an integral part of the model and is self regulating.
7. Protection against the Abuse of Power.
The Mycelium model is based on sharing consensus and raising awareness in society and doesn't make or implement ANY decisions. Since it itself does not have any power to manifest the change, it can not overstep its mandate. By separating the awareness and the implementation processes we create natural checks and balances that prevent abuses of power from happening. Through the increased awareness in society, the model also serves to make abuse of power in other existing or emerging governance structures less likely.
8. Accountability.
The accountablilty of those that implement projects and manifest change, as well as of those that make decisions in existing governance structures, is not impacted or changed in any way by the Mycelium governance culture. Through the higher awareness in society, the accountability in these other governance structures, as well as the accountability of anybody manifesting change or trying to prevent it, will tend to increase due to the Mycelium governance culture.
... Link (0 comments) ... Comment
The Summer Camps experience of St-Imier 2017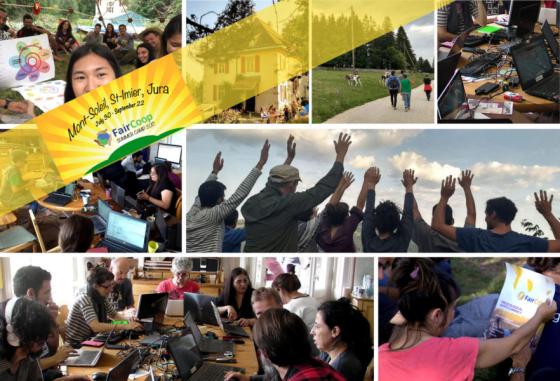 FairCoop is beginning to consolidate its new form of organization. Finally, thanks to the work of the last Summer Camps (in Décentrale, Mont Soleil, Switzerland, with the help of Synergiehub and SCI Schweiz), a new operating scheme has emerged, which we will detail in our next post. There, in Jura, we spent eight weeks of intense work in which we approached different aspects related to the FairCoop ecosystem. Two months of pleasant cohabitation and a continuous flow of ideas whose development we describe below.
July 30th – August 13rd
Introduction to FairCoop ecosystem. How to create a local node in your region
The first FairCoop camp introduced dozens of young people from all over the world (Ukraine, Mexico, Spain, Czech, Russia, Italy, Ethiopia) to the principles of permaculture, self-empowerment, synergy, solidarity, cooperatives, alternative economies in general, citizen journalism, democratic schools, etc… Working on building the dome, yurt, wood chopping, renovation of the veranda was an important part of learning how to self-organize and share the values of community life.
At first, the camp was "chaotic", according to the participants; later realizing that the "chaos" was part of the order they needed to establish with their hosts. Intensive work outside and inside the house, in the kitchen, promoting diversity and vegetarian food, weekend trips to lakes and mountain houses, and cities around Jura, was all part of the plan for them to learn and enjoy as much as they can during this process.
Young people were surprised that everybody was equal, in the sense that there were no classic representative authorities like owners, leaders, teachers… They often didn't understand everything that was part of the workshops and lectures, as a complex study of theory and praxis of subjects like permaculture, anarchy, cooperatives, blockchain and cryptocurrency economics, protesting at first that there was too much information. Participants were slowly introduced to communicating on Telegram, installing FairCoin wallets, buying some FairCoin, spending some in the Espace Noir bar in St. Immier, and learning a lot about how differences can be peacefully harmonized in a diverse group of people.
It was interesting that one of the "conclusions" of the people participating in first of four summer camps dedicated to further development of FairCoop, was that they witnessed the movement needed to change the world away from its current capitalist system.

August 16th – August 23rd
Blockchain for women
During the 3rd week of August, a meeting of women took place to learn and reflect on this new technology. It was a great opportunity to meet, live together and learn both from Blockchain and the need to readjust everyone's expectations when we want to move forward in a group towards a common goal. Women from diverse backgrounds, knowledge and expectations, embarked on the task of self-organizing both at the academic and logistical levels, with diverse results. The experience was certainly very enriching.
In addition to the enormous and worrisome gender and class gap that this new technology is generating, we learned some of the enormous possibilities that will emerge in the immediate future from it. Complicated but exciting, we understood how the FairCoop ecosystem uses this technological opportunity to generate value and support the creation of a fairer world. We also set about creating a space for the study of crypto trading and its intricacies, in order to contribute from a female/feminist perspective.
No less important was the realization that neglecting to care for each other and to consciously generate spaces for exchange and reflection – on what we want, and how we want to do things – leads us time after time to ways of doing that constrict us. A true reflection of what we have to do in our daily lives is needed, if we really want to organise from below and cooperatively – without anyone having to direct or supervise anyone else. Also if we want cooperative spaces really to be cooperative, so that in spite of the individualistic and hierarchical culture in which we have been raised, we are able to create spaces where we are all able to give the best of ourselves, and so take care of both people and the planet.

... Link (1 comment) ... Comment