Invitation to the 2013 "Beau-Sejour" gathering, October 25-27 in St-Imier, Switzerland
Rethinking Democracy, Money and the Civil System
A small gathering of thinkers, change makers and social entrepreneurs willing to venture outside the box.
We'll start Friday evening by collecting a bird's eye view of existing and to-be-created projects that we think aim to build the new in the shadow of the old. This will give us a head start, laying out the terrain we will be covering on Saturday.
On Saturday, there will be no presentations, no planned schedule and no predetermined shifts between topics. This gathering will be a group exchange that is moderated only to guide the group in the flow of where it is going. This process will encourage the emergence of fresh, innovative outcomes that shift not the direction but the vision of the future work of all the participants. We will gain a higher understanding of why and how civil society will get to where it is going.
On Sunday we will continue and collect these results, look for ways to take advantage of synergies between the various existing projects and perhaps some new project ideas that have emerged. We will develop a vision of a way forward, identify the key projects that will help along on that path and layout possible directions for future gatherings in a larger, more inclusive context.
Registration
Please let me know as soon as possible that you are planning to participate by sending an e-mail to
chris@zumbrunn.com
or by calling +41 329 41 41 41 (if you get the message box, please leave a message and I will call you back).
There is no set conference fee. We want financial circumstances to not impede your ability to participate in this gathering as much as possible. We ask participants to pay voluntarily what they can expend for such an event.
Accommodation
If you like help with your travel arrangements or accommodation, do not hesitate to contact us. If you would like us to arrange accommodation for you, let us know how much you want to spend and what comfort level you require. Please do not expect much if you want it to be free. We will provide a shuttle service to and from the conference venue within the surrounding area.
Location
The main venue of the gathering is the Beau-Sejour Hotel near St-Imier:
www.hotelbeausejour.ch
... Link (0 comments) ... Comment
Deepening Democracy Days, June 2-12, 2012
During the first half of June, political activist and writer Richard Moore was visiting from Ireland and we turned these two weeks into a project to not only provide him with a deeper understanding of Switzerland's system of direct democracy but also attempt the rethinking of the workings of democracy, civil society and the economy, looking for a consensus on a new way forward.
First we traveled around Switzerland to meet with various people able to offer unique insights into the political system, and dug deep into the psyche of Swiss democracy to look for lessons learnt as well as new ideas to be applied to deepen democracy in Switzerland, Ireland and Europe.
The weekend of June 9-10, 2012 we hosted an intensive discussion on "Deepening Democracy", exploring the directions in which democracy may be evolved. The group of people that participated was comprised of people loosely related to the Espace Noir project, people from the larger anarchist scene around St-Imier and people with an inherit interest in democracy living in the surrounding area.
All this resulted in the following diagrams and flip charts, and the emergence of the participants as the "beau-sejour" group founding a new organization that we named "St-Imier.org", with a mission to develop and search for conventions and best practices that allow civil society to better self-organize. These conventions should provide ways for different groups and organizations with an internal structure which allows them to reach consensus, to enter into a harmonization process with other organizations like that, in order to develop a larger whole system consensus. In other words, the outcome of this weekend session was that deeper democracy means democracy that relies much less on voting and instead focuses on consensus processes.
... Link (0 comments) ... Comment
International Anarchism Gathering, St-Imier 2012
All libertarians from the various anarchist movements around the world, and all those interested in learning more about anarchism are invited to gather from August 8-12, 2012 in St-Imier in the Jura mountains in Switzerland.
We will be celebrating the 140th anniversary of the first congress of St-Imier that was held in 1872, when the St-Imier Anarchist International was created after anti-authoritarian members were expelled from the First International.
Historic context: The Jura Federation and the Congress of St-Imier 1872
In 1864, the International Workers Association was founded, quickly followed by sections in La Chaux-de-Fonds, Le Locle, St-Imier and other regions in the Swiss Jura mountains. Many of the members in these sections were working in their homes as watchmakers, were well read, and had an independent spirit. When Bakunin came to the region in 1869, there was an immediate meeting of minds.
As a result of this convergence of ideas, the Jura Federation became the libertarian pole of the First International, opposed to the Marxists. Infuriated by this opposition, Marx did everything he could to eliminate this diverging current. In 1872 he thought that he had achieved that goal. At the Hague Congress he managed to assemble his supporters and with some of his supporters posing as representatives of non-existing sections, managed to get votes passed for the exclusion of Bakunin and James Guillaume, only missing a few votes to do the same to Adhemar Schwitzguebel, which were all delegates from the Jura Federation.
Shocked by these actions, the sections that were sympathetic to the anti-authoritarian current, including Spain, Italy, France, Belgium and the USA, organized a conference in St-Imier, where they passed resolutions that were strongly libertarian. The anti-authoritarian IWA survived the Marxist branch to the end of the century.
140 years after the Congress of St-Imier, the Marxist illusion has dissipated in light of the communist dictatorships. Capitalism lives from crisis to crisis. Social crises, political crises, in addition to the ecological crisis.
Where does the anarchist movement stand today?
The anarchist gathering in St-Imier in 2012 will be an opportunity to review the history of the anarchist movement, its ideas, its achievements, its hopes, its defeats, and its opportunities today; its own battles and those it shares with others: anti-militarism, anti-racism, anti-sexism, autonomous self-management, degrowth, education, feminism, internationalism, non-violence, etc.. A number of workshops and events are already planned: historical lectures, thematic conferences, theater, concerts, exhibitions, films, a book fair, a radio station, a libertarian camp, a self-managed market with organic products, workshops, restaurants, etc..
This international event will be public and wants to be open not only to the entire international anarchist movement, but also to the public at large without discrimination. Free admissions and voluntary pricing will be used wherever feasible, in order to enable as many people as possible to participate in the event. Having said that, the organizing committee will use its discretion to decide which participants will be hosted, based on the ideas and practices that were also the principals of the Anti-authoritarian International. Racism, sexism, xenophobia, homophobia and all forms of violence and discrimination will not be tolerated.
Based on what has been said, any person, group, or organization is welcome to get involved and join this initiative, suggesting exhibitions, debates, lectures, performances, speakers, workshops, etc..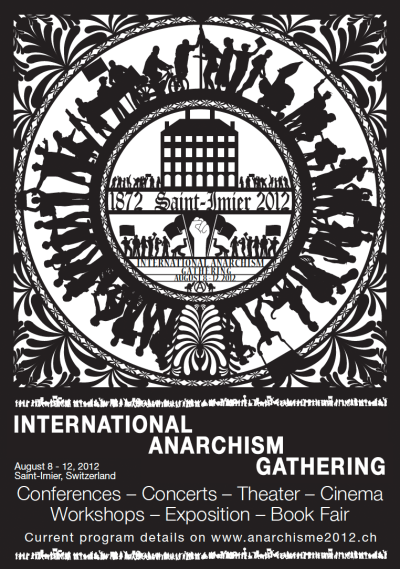 ... Link (0 comments) ... Comment